wonderful years of youthful and certainty
and also from my
mellow middle age of parenthood, angst, acceptance, and wisdom.
---
2003 (approx)
Boy, it's been a while!
I played Jimi Hendrix' 60th would-be-birthday, with JON PARIS at B.B. King's club, NYC.
Hiram Bullock came and sat in awesomely. They have a great keyboard setup there-fun for me....
and I brought along my trusty little Yamaha CS-2x to do "The Burning of the Midnight Lamp" w/JP...
We're doing a new Dana Powell-Gospel Choir concert with children, on 3/14/03...AND a CD of it.
Recorded on a new Japanese Album for Sushi Kosugi from Beat on Beat Productions with a cool band:
T-Bone Wolk on bass (Hall & Oates, etc,) Anton Fig on drums (Late Night w/Letterman band)
Jon Herrington on guitar, Roy Hendrickson from the old Power Station, mixing...Akira Sudoh producing.
We recorded at Tony Bennett's kid's studio in NJ. . . the place used to be a train station-
Check it out : the tracks go right by the window.
Played with Benny Landa and Steve Holley at The C-Note, east Village. Lotsa fun.
Still recording TV music tracks; Still workin at Sarah Lawrence College....
Still playin piano at the Empire Diner, w.22 st @10th ave, most Friday nights...
Did I put on a bit of weight..?..Gail is rubbin my stomach like a Buddha.
Diet-I oughta try It...actually I am now officially on a Diet.


My daughters are so strong! One's 16, and awesome. The other's 12 and a-mazing.
I just wish we all could make this world a better place for them. . . They'll survive.
JOHN KERRY COULD have HELPed.


quick insert:


GEEZ, 4 years later, and Now It's

O B A M A


Things look good 19 days before the election.
I'm prayin hard for this one.


back to 2004....


I mini-chat with Bryan Adams from time to time....
I picked up a couple of newish synthesizers (Roland XV-88 and Yamaha Motif) and an old Pump Organ.
But I'm still using MacOS 9.2....
WELL ACTUALLY 10.2.8 on this iMac Flat-Screen, I picked up for nexta nothin at The Wiz...
JUST BOUGHT a Roland V-SYNTH. IT is SOO COOL> (I had to sell my Juno 60 to pay fer it...)
New Sessions:
Hiromi Go, the Legend - and a Gentleman. Thanks for the Saki, Hiromi-san! It was D-licious!
Janie Coulter Ross - songstress, dog-mistress, and compassionate soul...Nancy Bender on Vocals.
Those Rude Boys @ Kirk's Planet - Hey Jonny Boy - where ya sleepin tonight?!!
And how bout Joe D's singer with Sarah Vaughn's pianist, putting Mariah C. to shame? Hope you liked my synth track...
AND the jazz-hop track we did at my place last week too !
Kirsten Thien-her too newCD;BennyLanda,SteveHolley,EricBoyd & me @DumboStudios(!)
In The Pit of :Peter Pan (the show) at Mamaroneck Ave. School - Nov 21-22 !
---

2004(approx)
I just did an interview with a Bryan Adams fans site - it might answer some of yer questions. . .
I "Spoke" with Bryan just the other day. He's snappin' an' happenin'.
Brady Rymer is this cool guy; a rocker, with a bit of a country influence, who got off the road to have kids (kinda like me, but different time-line) and all of a sudden, his new tunes, were. . . KIDS' TOONS. . . So he makes childrens' CD's now; I was lucky enuff (thanks to Dan Meyers at Dumbo Studios, nyc) to play on his latest batch last week, and we're both still Hi from the experience. Check out his site! gigs comin up.
On March 19, Dana Powell & her Circle of Life Choir, plus a kickin band, featuring Derek Talton (and me!) on keyboards, Matthew's brotherGeorge on Drums and MPC, Curtis Savage on guitar, George Lohre and Tommy Dreds on bass, Steph Chinn on trumpet, and Frank Valdez on percussion, and the Perfoming Artist students from Mamaroneck Avenue Elementary School, will be rocking the house at Hommocks Middle School Auditorium, Boston Post Road (US1) and Weaver Street (NY125), in Larchmont, NY. If you can get there, you will thank me, I guarantee. I'll be there too, to say "told ya so".
Some of our tunes are "You Can Lean On Me" by Kirk Franklin, "Step By Step" by Whitney, "Gotta Use My Imagination" by Gladys Knight and the Pips, "Colors of the Wind" from Pocahantas, (by Steven Schwartz and Alan Menken), and "Random Act of Love" by Al Jareau, written by Siddah Garrett, and 2 original tunes by the amazing Milton Vann, formerly of The Boys' Choir of Harlem.
.
Tommy Williams, that tireless Rocker is at it again, and. the loon, he's draggin me along with him to make that B-3 blend with his Hamer Guitar, tickling eardrums and memories on The Island.
It looks like I'm gonna be playin with Louie Flek at BB King's on Times Square, NYC, as part of a tribute to Robert Moog, with Rick Wakeman and Keith Emerson, Deodato, Jason Miles, Jordan Rudess, a keyboardguyfest. Bob Moog himself was there too, and very accessible. Also Ernie Rideout, the editor of Keyboard Magazine - quite the California Dude, tho he lives here with me in the Big Apple now... May 18, 2004. Bring yer Reggae. Oh THAT was FUN !
Daughter Jade's Bat Mitzvah - One Week from Today ! ! !
She's amazin us all. She ROCKED. So did Dylan's Candy Bar for the Party.
---
well, now it's August . . . another Japanese record with Sushi - ARASHI -big in Nippon.
working with Tony T and Victor, up and comers, also the Elegante Gloria Chiesi,Still doin the Diner, last night was a Par-Tay, if I do say. Donavon, you're gorgeous.
I've been playin on the new Jeff Salen (from the Tuff Darts) CD; so is Tommy Ramone, Jon Paris, Big Ed Sullivan, and Howie Finkel...The music is raucus and real. The studio, Laughing Buddha, is in this cool building down the street from Studio 54, it's crawlin with music.
---

Just yesterday, I met the guys from SED They were recording at my friend, Kirk's studio, Planet2Planet, down on W.30 St. After they let me play on a coupla excellenttunes, it sounded like a Nirvana-DeepPurple luvfest. thanks,guyz, and the lovelyAnita too. I'm designing their logo.jk
---
I'm-off-to-see-the-BryanAdams-band-at-Jones-Beach-2morrow- night.-I-haven't-caught-the-act-since-Bryan-added-back-members-on-bass-and-keys.
I-'ll-letcha-knowh-ow-great-it-was soooooooon...
It was fun. They rocked. I got to hug Adams, meet Gary, the new keyboard player, ate some of Manu's cooking. . .
---
I be jammin 8/6 with the John Jared band, with Tony Beard on drums (Hall n Oates), Ray Gomez on guitar (Stanley Clarke) and John Mombach on bass (yo mama.) at the SandBar in J-city. Jared had a few CD's out, and he's just returned from an extended stay in Jamaica. The Island, mon, not Queens.
Then I gotta hustle to make it to the Empire Diner for the usual Friday night piano thang.
---
Today, I attended WEDDSTOCK, 3 hours of Peace Love and Music in Great Neck, actually the wedding party of Tommy Williams and Holly Ann LaRocka.
I had the time o my life. playin B-3 and diggin everyone's trip!!! Soon, you kin go to tommy's website for the FULL story. See ya later.!.
---

Hello again- it's getting chilly here in November in NYC.
The election really threw us for a loop. How could it have happened?
Gotta keep working for sanity and peace. That's what I think. But it's amazing how far we have to go. . .
Oh well, lotsa gigs to keep my mind off the divided and misled state of our country:
Kirsten Thien - more sessions - this time at my place - putting down some real Hammond B3 organ tracks through my old Leslie speaker...And that old beige Wurlitzer electronic piano from yesteryear decided to tone down it's buzzzzzzz to a minimum, so we could put it too, on Kirsten's chic yet heartfelt and rockin toons as well.
Zack Resnicoff, the cutting edge filmmaker has been over here doing tracks for all sorts of productions.
Scott Morehouse, who knows more Asian Dancers than Gammy Lahn, just left. I played synth bass on his new toons. He played synth-colors. He's quite a drummer too - we work at Sarah Lawrence together when they decide to do a show...
Mamaroneck Avenue School is doin Cinderella again, and me and my Yamaha Motif synth are 1/5 of The Pit. Luckily I kind of know the songs from the last time we did this Rogers and Hammerstein Show there. . . Steph Chinn is the maestro, and Maria McDaniel, Julliard graduate and grandmother, is the hot pianist. Her son, Bruce is slummin on bass.
Looks like I'll be doin doo-wop adaptations of some speeches from The Taming of the Shrew, for Dee O'Brien, Mamaroneck's most beloved Director, and my kid's English teacher. I'm gonna call it Shrew-wop! Gotta get to it.

Well, I'm off to brunch with mom, see ya later!
Now it's later. Just jammed with Jon Paris at BB King's Christmas Eve (after the Empire Diner.) I'm told it was good...
Wrote a new song or two. Will post the mp3 here soon?
SawIanHunteratBBKing's-greathugs,androckinband.Goodmemories.
NEW YEAR'S EVE GIG - (after the Diner) - (also with Jon Paris) at The Cutting Room, 19 W. 24 St, NYC - 212-691-1900.

---

2005 ??????!!!!!!
Well here we are: February Already!@!
Kirsten Thien keeps writing these great tunes, and my organ aches to play on them. (actually, the last 2 sessions we did for her, the organ broke both times!!!!- well, the Leslie Speaker the first time. all fixed now!) She came over today with ANOTHER one!(tune, not organ). And her BassMan, Eric. . . it's gonna be SOME album: &nowIT'sDONE!
Ryo Hayashi, the moviemaker associate of Zack Resnicoff has made his own short:
It's very cool, a bit X-rated, and it's called The Workout. We're doing some soundtrack work at my studio, featuring Jon Paris on guitar me on B-3. (and MOTU's Digital Performer v.4.5.2 sequencing (D.A.W.) program.)
Gonna be playing on Greg Pickard's new album. He was in The Revelons, a CBGB's band, and a neighbor of Jimmy from the Miamis, also a CB's band. Greg's a visual artist, and a dad too. thanks for the tasty soup, Mindy.
Speaking of Greggs, there's a Gregg Shafritz Band gig at Cutting Room, NYC, on March 10. (same night that my old bud and boss, John Waite is playing at BBKing's Blues Club on Times Square....drat!) The last gig I did with Mr. Shafritz, Cindy Blackman from Lenny Kravitz was the drummer. This time it's gonna be Kevin Hupp. whooo! I played with Kevin, once with Boppin the Blues and Jim Gregory, R.I.P. the bass player with The Smile. Miss you, Jim. Kevin's got a studio upstate a bit, where you send him your ProTools session, and he plays and records drums on it, and sends it back. And he only does COMPLETE TAKES! the flow rules.
Jim Keller, from Tommy Tutone (637-5809-i-i-ine) and me reconnected after many years. There's a jam session he's been running at The Conte Brothers' space. He's written some James-Tayloresque songs that I really like too.
I wrote this cool new song, starting with a U2 like groove on the Yamaha Motif sequencer, then added vocals reaching out to all my brothers and sisters everywhere, lettin them know that secrets are cool, but it's also cool to let it out and tell it like it is, and then put the V-Synth, the Hammond B-3, a heavily chorused Roland D-550 module, and a vintage Prophet T-8 on it. Called "Keep It In Yer Pocket" or as my lady likes to call it, "Secret in yer Pocket."....I'm in luv with it, but I'm not sure how to post it here for you to hear. So that makes 7 new ones since the cdBaby and iTunes Store release of "The Enlightenment of Age", my last vocals CD, including NFD (not funny, dad) - a rap I did for my daughter, "Your Love Is Like a Stone", this melange of Paul Carrack, Country & Western music, Spike Jones, and the Monkees, inspired by my indescribable feelings for the infinitely charming Gail, "Money", an instrumental designed to attract just that, but hopelessly naive in that conceit, "Get Rid of Bushman", a remake of my 70's smash, "Mother Me, Baby", with obvious lyric intent, and the a capella masterpiss in the Leon Russell/Willis Alan Ramsey mold, "It Might As Well Be Christmas" . . . Oh, and XmasLonely too, a sweet li'l 1 minute ins-true-mental So that's my songwriting status at present...
---
Just did a session with - here's their site.They're a really cool self-contained 4-piece band with 2 guitars, and one of the guitarists and the drummer are brothers. They write some really powerful and heart twingin songs. And cute ?!?!?!?! ubet. Anyway, check em out. They wanted an Alien Touch on the new CD (I think it's on Atlantic or an Indy distributed by Atlantic....) So their producer, Dave McNair, (he's produced Good Charlotte and John Mayall) called me up to play a bit of piano. Never had so much fun (or such good coffee, as the day before yesterday, thank you, Andrew....) at Brooklyn Recording studio. You gotta see this place! ! ! ! ! ! I don't know which is more mind-staggering: owner Andy Taub's vintage keyboard collection(Ace Tone organ, 2 kinds of vintage Wurlitzer electronic pianos, B-3 (of course), pump organ, Octagons, 2 farfisas, red sparkle top (custom) Rhodes Suitcase, eminee organs (i could pass on those...) or the sheer size and opulence of his multi-loft building in Brooklyn (check out the site, I guess, and decide for yerself.) Seems I'll be goin back there next week - one more song needs that Octogenarian Tommy-Touch. can't wait.
Turns out I played on a few other tunes, including a combo organ track that kept me dancin below the waist.
And thanks Gerard, for your generosity, in the face of Atlantic's bogus jive walkin. Matty! Sean! SEE YA SOON?!!!
---
Now it's almost 2006, and I'm back playing GOSPEL MUSIC with DANA POWELL and the kids at Mamaroneck Avenue School again.
"Performing Artists" we call em, and the show is in April. Milton Vann, Kathy Savage, Joan Chess & George's Band also star.
Just finished doing The Wizard of Oz at the same venue. I used my Yamaha Motif. Bob Leinback's daughter played violin.
Brady Rymer's new CD, EVERY DAY IS A BIRTHDAY is coming out REAL soon. Will Lee told me he digs it.
Ricky Shutter (the original Godspell drummer) and Boppin Becky Beaudin and Bro and I are rockin
on New Year's Eve, or so it seems.....
Did I tell ya I played B3 for Sushi'sBEAT on BEAT Productions at AVATAR Studios, which was the studio we recorded a lot of Bryan Adams' Albums at when it was called POWER STATION back In the Day?
The CD was for Satori Shiraishi, from Orange Range.
And of course, Sarah Lawrence's college students are singing up a storm in Dave McRee's class.
You gotta hear Erica, Emily, Hunter, Danielle, Sarah, Amanda, and the rest of em. Wish Icould singlikethat!
O I wrote a couplanew songs, since Keep it In Yer Pocket. And an instrumental is in the works too.
---
Alexy Kogan is rockin Soho's most beautiful ProTools room, VodaMuzik, courtesy ofme and my friend, Alfredo Scotti.
His music sounds like a cross between Aerosmith and Shostakovitch.
Speaking of old Dmitiri, Iwas just reading this "fictional" book about him at Borders...
Called....er....I'll have to get back to you with the Title. Sorry. Alzheimers.
EUROPE CENTRAL, by William Vollmann That's It!
---
Next on th List, BRADY RYMER - check out his website.
I think I've played on his last 3 CD's, and now some gigs are coming up.
He writes really rockin KIDS' SONGS!
---
I played with The Drifters over the weekend.
The current ones are 4 great black singers, and they can dance too...
We did Up on the Roof, On Broadway, There Goes My Baby, and other hits of theirs.
Funny 'bout the Drifters - they had many big hits in the 50's and early 60's,
But their lead singers kept getting 'solo deals' : goin off on their own and making hits.
Ben E. King; Clyde McPhatter, TommyMandel, all started out as lead singer for the Drifters.
Just kinda drifted off on their own I guess.
Oh wait- Tommy Mandel never was a Drifter*But he did PLAY with em Saturday Night...
---

My Latest CD of songs, called
Curio-City
~or~
How I Got Myself Killed
Is now available at cdbaby (hard copy) and the iTunes Store (Digital Download)
Pick one up. It's got some cool stuff on it. Lotsa politix too, I'm sorree 2 say...
Matter of Fact, my whole 'catalog' or most of it, is also for sale there.!.
See all my CD's at the

Apple iTunes Store online

, or u kin search for "Tommy Mandel" there...

---

Well, I've got one daughter (the Pre-Med one) doin Organic Chemistry at the kitchen table
And now I gotta go pick up the little one (the basketball hiphop Chinese whiz), so
CD coming out soon


U REST IN PEACE HILLY. . . Thanks for all the Support you gave us
---

Wow- I just got out of Planet2Planet, playing for DJ Logic...his new one...
It was this Billie Holiday song, but the music was ALL different, and...um....Logical.
Sweet.
Then I tumbled up to BB King's Blues Club in Times Square and Jon Paris was kind enuff to invite me to play the 2nd set with him. Jimmy Kunes (from the new Cactus) was singing like Paul Rogers, Amy Madden on Bass, Andy Bigan on drums, and Jon was, as always, being. . . Jon. Fun.
Next@Mamaroneck Avenue

School

? ~ Seussical ~ Bruce McDaniel ~MD-from NineMensMorris Band!
Laurie Gage and Steph Chinn, Greg Antonelli and 2 other Local Heroes Fill the Bill
---
Is it really 2007?!?!

anyway...

i did sit in with my old band, Bryan Adams, including Bryan, Mickey Curry (drums), Keith Scott (lead guitar) and the 'new' members -

Gary Breit and Norm Fisher, when they played @ The Beacon Theater in NYC this past January. It was fun and surreal.

What else? Nine Men's Morris hosted a show featuring Vanese Thomas and I got to play with both acts. Vanese is an incredible singer,

her father is Rufus Thomas (of Walkin the Dog fame) and her sister, Carla, sang Gee Whiz, one of my favoritely wistful sexy ballads of all time.

Brady Rymer has a new CD that's in the final stages, with Dan Myers once again co-producing, this time in this hidden high-tech studio in the basement of building in Hell's Kitchen, where you open the door and expect to see the Janitor's broom closet, and instead see vintage Studer Analog 24 track tape machines, Trident consoles, ProTools, real pianos - it's called Threshhold, but we thought TimeWarp might be a good moniker. This time, I was adding organ tracks to his live keyboardist, Seth's excellent already-recorded tracks, and it was the usual fun-love fest. Brady also takes me along occasionally to play live, like in December in Montauk for the Elvis Presley of Socialism, Vic's 90th birthday party. This guy has started unions, taught in the NYC school system, and I hear he does a mean cha-cha.

Some great acts I've been lucky enough to see/hear lately: Ellen Foley

@ The Lakeside, in Alphabet City, in fact here's a video we did in the early days of rock videos, in some loft

Bob Duncan and Scott E. Moore double bill @ The Sidewalk Cafe, also in the East Village. Mikey Ice's International Rap Fest in Tribeca, The Apple Developer's Conference, midtown...

<>Played

live

with Kirsten Thien, and her

boss

rhythm section of Johnny Pisano (bass) and Dylan Wissing (drums) at Penang,

Benny Landa

recording awesome Beck-like guitar tracks (Jeff, that is!) and musing on the strangeness of our world in general - girls and music business in particular...

A touch of programming for Patti Smith's Tony Shannahan before their Bowery Ballroom New Years gigs...

A bunch of keyboards, including my Hammond B-3, at my place, for


David Abbinanti




- a talented singer/songwriter from

the Island

. Should be out soon. . .

---
This Thursday, I'm goin into the

Juvie

in Brooklyn to teach the young

inmates




Midi Programming and Digital Audio Recording trix

. . . We can't make CD's, because they haven't been sentenced yet, and if they get off, there has to (legallly) be

no record of them

ever having been incarcerated.

Strange

, but I'm hoping to learn as much as I teach.
(if I get out alive!)


OOOOWWWW

! -

that was just amazing

-

sad and deep.


The young inmates walked around like they were whipped puppies
Well, not all of them: out of 10, there were maybe 3 or 4

PROUD

ones.
But all of them were very curious to reach out and be reached out to by someone from the Outside.
This place was in a

not so great

but

not so horrible

section of Brooklyn, behind barbed wire.
Old brick building. Inside, (after the metal detectors and double locking bulletproof glass doors)
it was kind of like a 50 year old elementary school or a hospital in decor.
These 10 teenagers were brought in to the small classroom where I had set up my rig for the day


(Apple PowerBookG4 Ti/667DVI with Digital Performer,




Ensoniq ASR-x sampling drum machine,




Shure SM57 microphone,




Yamaha Motif 6 synth workstation,


Roland MA80 (i think) Powered Speakers.)


The social worker-inventor of this program, Alex Rivers, a cool young guy, talked for a while,




I showed some old records that I had played on (Alex said that would give me street cred)




Then I tried to show em how sequencing worked and explain the difference between MIDI and Digital Audio recording,




And gradually they started drifting - you know, losing interest a bit....


So Alex goes - HEY LET'S MAKE A BEAT!
So this really tall Asian kid with glasses makes a beat with his mouth, and I don't sample it, but I transcribe his 'notes' into a 2 bar MIDI sequence - playing a Hip Hop kit on the Motif.


Then then start to come alive! (They can relate to this. . . )


(the startling part's coming up)
A few minutes later, one of the other guys has come up saying "It needs a snare"
(it already had a snare!)
But I show him the drum pads on the ASR-x and say 'You put one in.'
We can't find the sound he's looking for, and it turns out he means "a hi-hat cymbal".
So he records one, and it's cool, but i wanna jazz it up,
so we record its Audio into Digital Performer, and I

REVERSE

it (in DP - a plug-in.)
So now we've got the 'mouth beat' and this kid's reverse hi-hat track, kind of Beatle-y,
And - that seems to be enuff in the Music Dept.


NOW IT NEEDS A VOCAL.


no one will get up,

so me

, I do the dumbest rap that comes into my mind/mouth for 4 bars.
Once they see how lame THAT is, then they ALL wanna do one themselves!
So first one kid gets up, I give him the mike and he does 16 bars IN SPANISH!
And like, it's totally crafted - all worked out - like he's spent his miserable days inventing this crystalized perfect embodiment and expression of his pain and 'understanding' of the world and the way it works.


ONE TAKE.




it's done.


Then this other guy gets up, and I give him the next 16 bars, and


HE DOES HIS THING.


Same deal- completely rehearsed, in perfect rhythm and rhyme, tuff funny and very sad.
Angry of course.
But nothing like the 3rd and Last Guy,
The Big Asian.


"I'm a Gangster"

he goes.
And then 32 bars of the meanest most misguided but well thought out rhyme and rhythm rapping.
I put different electronic effects on each of their parts.


And it's mixed and done.


Alex Rivers says - you know these guys are Juveniles, and legally, there can be no public record that they have ever been incarcerated until they are of age.
So no recording of this can leave this facility.


Time to leave.


"Come back," one of them tells me.
But by the time I do, it will be a new crew-
those young men were only in there awaiting sentencing.
That period is usually about 2 weeks.


The one other thing I will say, is that the few staff members that I met in the place, were all, in my 1st impression, very very good people. I'll leave it at that.




end of story.



---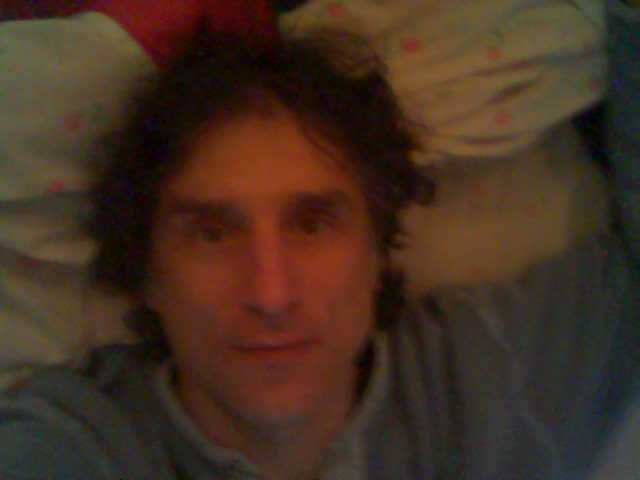 Here's an interview I did with Bryan Adams' Dutch fan club. There's a link to their site at the end.

---
Current Giglets

:

James McGovern

@

the Slipper Room,

Michelle Myers Benefit

@

The Hudson Theater

,


James Tommy (TuTone) Keller

@ Brooklyn Shiatsu Center, and

the Diner

as Usual.

'M BACK AGAIN -

Almost October (2007)



some Brady Rymer Gigs


!!

VOTE for BRADY for a GRAMMY
!!
best kids' record of the year


2 new Piano Songs (since I gave up my addiction to Day Trading stox)
And another one, called "You Smiled" but I'm not sure how it goes from there!

oh yeah:



You SMIIIIIIIILED at me and really blew my mind:




What was I to do?




Such a SMIIIIIIIIILLE


mmm-mm-mmm-mm-mmm-mm

(yeah, need more lyrix, i guess
But the music is sweet : )



stopped

Making up RingTones


more fun grabbin em off my record collection


New Song recording session(s) with Hilly Michaels -

AMAZING

power pop ballad
Bandcamp demos for their new CD - did I already mention that?
Indro gig in the Village - CD release party - pretty interesting
Recording my Pump organ for Sesame Street or some such show
BeatleStock fill-in - Tommy as Billy Preston (I wish!)
13 new awesome singer-actor students at Sarah Lawrence
Didn't play there, but witnessed Evertt Bradley and Alex Alexander's wild jam in that park in the East Village..
But i *did* play a bit - sitting in with an excellent band, at my HS Reunion. Thanks to Joe Rinaldi,
he was the other hot organist in my class at Mamaroneck HS back in the day.


My kid's playing BASS now! and I'm a proud poppy over THAT one!


Been to Colorado, Michigan and Massachusetts and back.


I been working with a fine singer and human, Mr. William David McCree.




---
Well here it is, Passover, 2008, and it's time to tell you the new stuff:
Empire Diner cheaped out - no more piano players, but luckily my pal Dave Leonard hired me to play Fridays at his cool seafood restaurant nearby,
BLACK PEARL
It's in the Flatiron district, not far from the Empire D, but the vibe is richer younger and hipper. And the food is mmmmmSoYummy.
Well,

THAT

gig ended after the summer - they up and SOLD the place!
Here's my new location:

---

TOMMY MANDEL - SOLO PIANO
DATES TO BE ANNOUNCED SOON
at

INDIAN ROAD CAFE & MARKET

It's UPTOWN, and it's COOL.
Manhattan, NYC, NY, USA, NA, Earth, Solar System, Milky Way, Universe #93,000,623, G-d's Mind
Real good Food,

Great Bartender

hip staff

, Nice Piano, friendly eaters and

drinkers, er,

patrons.


---
Just finished playing in

Bruce McDaniel/

Steph Chinn

's pit-band for Sound of Music.


Rogers and Hammerstein really knew how to write tunes, I'll say.



I been Playing B-3 on sessions for Euphoria at Acme Recording Studios.


That is one class act, Euphoria. And Acme has an amazing and aesthetic set-up for recording Hammond Organ.


Peter Dennenberg, the co-owner/engineer, did Spin Doctors and Mick Ronson's last mixes.
Bryan Adams has a photography exhibit in NYC, as well as an acoustic gig here both in May.
I'm going to Sweden to play with Ellis Hooks. Tommy Williams is the band-leader on that one.
And I think the bass player is Muzz Skillings from Livin

g C

olour.
And an

AMAZING AMAZON

young girl-drummer from Roy Ayers.
But before that, it's time for the Traditional Gender Bending of another
Sarah Lawrence College

Song Night - May 1,2,3 !
Speaking

of
Sarah Lawrence
, The

Music Dept

. has been

kind

(and smart lol) enuff to

hire me to work with




Thomas Young

, the vocalist and professor. Words can not describe this guy.
I'd suggest going to his website, and checking him out.
When I get the strength, I'll try to put a page up about him.


He's hip, smart, and has an infinite amount of experience and wisdom to impart to his lucky students.
Nick Barnes' new CD

is coming out soon.


He's a street-smart Brit with a heart the size of Kansas. I help him out with keyboards,


(he sends me his songs as mp3, and I add my music to them, mix it up, and send them back to him.)


we may have met once (he insists we have, but my memory ain't that good!) back in my Dire Straits days...


But since that was 25 years ago, I guess you could forgive me for forgetting : )


It's different, working on music with someone without even being on the same continent as them


(does that mean we're incontinent? hope not...)


But it seems to work. Nick has also been cool enuff to plug a few of my tunes on his radio programs.


(Oh did I tell you - he's become a dj too - in Canada, England and Holland.)



over and out
---
Wow, the

Revelons

' CD just came out and it's awesome! (to use an overused and possibly, by now, anachronistic, epithet)



Hilly Krystal, the mellow biker, founder of CBGB's passed away, as you probably know by now.


He was always open to new and off the beaten path ideas, like

The Miamis

, for example.


Bye Hilly. Looking

Up

to You.
---
I been playin with this great bass player, Lincoln Schleifer, (thanks to another one, Zev Katz!)
Saw Steely Dan last night at The Beacon Theater-
but the biggest thrill was watchin

my girlfriend

dance to

(i'm never goin back to)

My Old School

- their Finale.


(Actually her HS reunion was 2 weeks ago, and we DID go!




Met Adam Nagourney of NY Times there.




Made him smile. Well, he was smiling already.




I guess I broadened the smile a bit.)



---
I've been fortunate enough to be working (again) with

matthew bair

, the lead singer/guitarist from

Bandcamp

.
I played on their CD's (augmenting

Sean Gould

, an interesting musician on many levels!)
Well Bandcamp is now

defunk

t, but

Matt

is doing all sorts of amazing things.
He's in

EVE6

now ! Going to Japan like, yesterday.. .. ..
He's also gonna be on

The Real World

next Wednesday (June 25 -same day I go to Sw

ed

en - DRAT! I'll miss it.)
Anyway I'm helpin out on his solo project, it's called

SEQUEL

.
More soon on that, like, links, etc.

---
More recent gigs and giglets included


The Hot S**T All-Stars-


Deep Purple Tribute at BB. Kings
Jimmy Kunes (Cactus) vocals, Greg Smith (Nuggent & Movin Out) bass & vocals,
Angus Clark (TransSiberian Orchestra) extreme Guitar, and Young Charlie Z drums.


(love how they feed the musicians at BB's -




He must have promised himself at one tuff gig on the Chitlin Circuit (or 1000) that when he struck it rich and had his own club,


no musician would ever go hungry there. It's heartwarming how well everyone there treats the bands. Like a family.

*
Julian Civange French GlamourGuy from La Place -
Our last CD's tracks are on a Space Probe that just passed Saturn, or will soon
More recording at Tommy's Place, NYC -
into Logic
And Beyond!

*

James McGoven and Kirsten Thien gigs around and about town.

*

Mini-Tour of Sweden with US Blues-Rock Street Hero Legend
Ellis Hooks
with Bass Player from Living Colour and Camille Gainer on Drums and of course Tommy Williams MD/Guitar

*

Sarah Lawrence has started up again, some

great kid-singers this year,


For me to accompany, coach, turn on to the great music of yesteryear (they're open to it too!)
And for

me

to get turned on to some more recent goodstuff:
sample:
Conor Oberst, lotsa Gwen St., John Legend, Alicia Keyes (well, I'll hafta get backatcha on that one...)
Vintage Nirvana, Jeff Buckley, Aretha singing Sam Cooke, Bowie of course (they all like him)
One kid writes her own stuff on ukelele, and she's a real rocker, I worry for her.
Then there's this divine born again who sings like the 2nd coming, and
a blonde from SoCal with a voice and the gift of drama,
and a guy who could be the X-Man that sings,
and another hard rockin guy and
a repeat offender who sings
The Pretender
all genders
tender
is th
ni




*





The Miamis Greatest Hits CD


soon to be released
(We played at CBGB's and Broadway Charlie's in the days of Blondie, Takling Heads, Richard Hell, post-NY Dolls)
(and David Johansen used to come in and sing Sinatra's THAT'S LIFE w/us)

*
LOVE AS LAUGHTER - HOLY - Recorded at Joe Blaney's Studio - Me on Joe's Old Piano, and Hammond B-3.

*


Pretentious? Moi? ME: - SOLO PIANO


DATES TO BE ANNOUNCED (I'm hoping for THURSDAYS)


at

INDIAN ROAD CAFE & MARKET - in the Inwood neighborhood, Manhattan



Try It - You Gonna Like it!



Manhattan, NYC, NY, USA, NA, Earth, Solar System, Milky Way, Universe #93,000,623, G-d's Mind
Real good Food,

Great Bartender

hip staff

, Nice Piano, mello

eaters and drinkers, er,

patrons.

---
---
Gigi Fouquet is rockin her early-twenties lifestyle, eighties-lovin sweet-singin good-loookin ♫

chick-a-rina

world -
aaaand she's lucky, smart and tasty enuff,

♫

to have ME in her band! (along with Alex A. Keith G. and Kareem Devlin,

q.v..

.


Check us out at her next gig

- she sings like

the

love

♫

child

of

Counting Crows' singer (Adam) and Janis Joplin.


But with better rhythm

(she velly fun-kee) and much better pitch.

♫

Great

songs too,
My favorite one is
Surrender...

<><><><>



CD sessions:




♫

Alan Wauters Project

♫




♫

Danielia Cotton

♫




Live:




@

B.B. Kings




Tommy Williams/Kenny Forgione Present


Bangladesh - The 3rd Year


@

all over town:
Big Beat featuring vocalist extraordinaire, Peter Brown



---
IT's BEEN WAY too long. . .
Tomorrow, 2010 occurs

But the end of 2009 brought some really gratifying work my way.
Specifically 3 gigs:

Holidelic -


Everett Bradley

's tribute to Christmas and Funk, can best be described by his site, so I will say no more. Go. Now : )
PS. the gigs were fantastic - GREAT band

Alex Alexander - drums
Keith Golden - bass
Vini Miranda - guitar
Me - keys
Conrad Korsch - upright bass, bg's
Nicki Richards - bg's and occasional lead vocals
Celia Chavez - bg's and creative organization
Amanda Homi - vocals and exotic percussion
Daniel Mintseris - keyboardist emeritus

guests:
Lucy Woodward - Mother Mary and Sheila the Schwinger
Jonathan Arons - Trombone and Dance
Elaine Caswell and Shawn Pelton - vocals and SpaceDrum Grooves
William Galison - Chromatic Harmonica
Kiku Collins and her Amazon Horn Section


<><><><><><><>


Chipp Kidd and Mars Trillion's Artb reak may be an acquired taste,
but like good scotch, I acquired it, and will be coming back for more.
We played Dixon Place last night, with a great rhythm section, whom I know
mostly from Kirsten Thien's band:


Dylan Wissing - drums




Johnny Pisano - bass


Paul Shellack - guitar


Chipp is another unique and tough-to-describe artiste.


Kind of like Tom Jones and Truman Capote all rolled into one.
I was assigned to trigger Mars' beautifully nightmarish samples,
but I did get to rock and funk out too.
Plus Marco's and Paul's kids were there!


<><><><><><><>


&
Finally,
Fabulous Freddie Khaw
put together another steady but wild bunch
of responsible crazies that used to be musicians but are now family men,
to back
up 3 fine chinese
recording stars in Atlantic City
and I was one of these crazies. I say crazy,
because it's a full 20 hours between pickup and dropoff,
and if you get 2 hours sleep you are extremely extremely luck, cuz
it's all
driving, linecheck,
eating, rehearsing, rehearsing more
(with the artists, some of whom have just gotten off
of the plane!) then eating more, changing into gig clothing in room,
and finally, PLAYIN YER *SS OFF! - hitting the stage at 1:15 AM ! ! ! ! !
(but)
with the fabulous
"STAGE CREW" dancers
from Queens, no one was falling asleep, believe me!
dig
the
xms
tree
vibe?